At what point does the media push too far? When it features young girls dressed up and modeling in sexy poses for an ad campaign. Shot by photographer Sharif Hamza, the photos from the Tom Ford-edited issue of French Vogue showcases a campaign from Cadeaux featuring young girls all dolled up in luxurious garments and casting sultry looks in seemingly innocent poses.
In an age where young girls already feel an immense amount of pressure to be pretty and to fit into society's ideals of beauty, is this really the image the media should be perpetuating? Given, also, the amount of child pornography, this appears to be blurring the lines between a young girl playing dress up and media exploitation of children. When kindergarden-aged young girls are shown in vampy lipstick and stilettos, languishing in bed and on a tiger skin rug, one has to question, is this art, fashion or an ignorance in our society, or is it something more perverse?
The issue is the last for French Vogue's controversial editor, Carine Roitfeld, who has stepped down. Roitfeld has been known to mocking indulge the media's worst impulses.
(See also:
Plastic surgery erotica
,
"fat" model eating.
)
The spread, entitled "Cadeaux" (
gifts
), goes the full
Pretty Baby
.
Roitfeld devotees immediately started speculating about what would be next for the Parisian powerhouse. Perhaps some sort of collaboration with Tom Ford?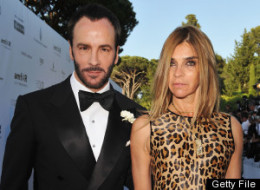 That guess kinda made sense -- Carine handed over the glossy's holiday issue to Ford and she's constantly praising the designer, previously telling WWD, "I always say, 'Tom has an eye like a scanner.' [....] He is truly multitalented."
However, according to Ford, "Carine and I have no plans to work together at the moment, and it is nothing that we have even discussed, but of course I think she is brilliant and we are close friends so who knows about the future."
So, who is to replace Roitfeld? According to the former Creative Director of French Vogue Fabien Baron (who spoke with the Times), the mag's current Fashion Director, Emmanuelle Alt, will probably assume the position.